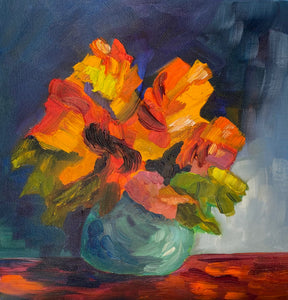 This is the first in my "Blooming Love" impressionist still life flowers series.  

I am choosing bright, complimentary colours that will bring a sense of spring and summer year-round. This is perfect for any small corner or a home or office.
8" x 8" on high quality flat canvas panel. It will need to be framed or sit on a stand.
This was painted with high-quality oils, in the Italian-derived alla prima technique — done in one sitting, where every brush stroke counts.
Don't see what you're looking for? Feel free to send a message to Char in the Contact section.