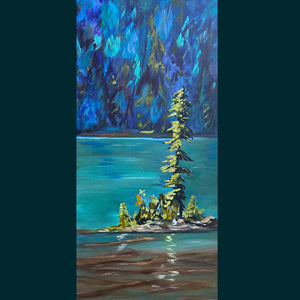 This is a painting of a photo I took a couple of years ago on a gorgeous hike in Kananaskis. It was basically a small island that was created by a log where a lone tree and small plants and moss started to grow.

This image has always stayed with me, signifying strength of character and persistence to thrive in an environment that might not be as forgiving.

15" x 30" on high quality 1.5" gallery wrap stretched canvas.
Have something specific in mind? Please reach out to Char.