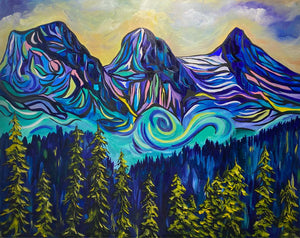 Here is another of my Three Sisters paintings. They have got to be my most favourite mountains in the Canadian Rockies. I always look forward to seeing them on our way out to Banff and back home again.
FineArt Moab - Entrada Rag Bright:
Entrada is what made the Moab brand famous. Entrada Rag Bright is an award winning art paper made of 100% cotton and exhibits a bright surface to bring your vision to life.
NOTE: 1" extra white border will be around the print for mounting or framing.