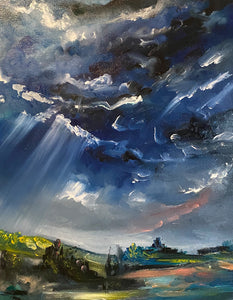 Breaking Through — Stormy skies are some of my favourite to paint. Not because they are dark, but because they stir turbulence in life. Who are we if we are not experiencing some turbulence in life! It allows us to break through the darkness and truly love the light in our lives.
Original 18" x 20" Acrylic on high quality canvas board. Will need to be framed or displayed on a stand.
Have a question regarding this or any other painting, please feel free to reach out to Char directly here.