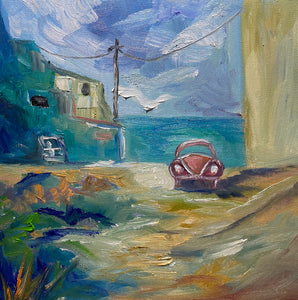 Just imaine the warm summer breeze coming in off the ocean. Windows are open and welcoming to this breeze as it wisps inward with that glorious sea breeze scent. Oh how I love the smell of this breeze. 
10" x 10" on high quality 1" gallery wrap stretched canvas.
This was painted in the Italian-derived alla prima technique — done in one sitting, where every brush stroke counts.

Painting is ready to be hung as is, no frame needed.
Don't see what you're looking for? Feel free to send a message to Char in the Contact section.